Pad Printers, Applications
November 10, 2022
Is Pad Printing Right for Your Business?
Pad Printers, Applications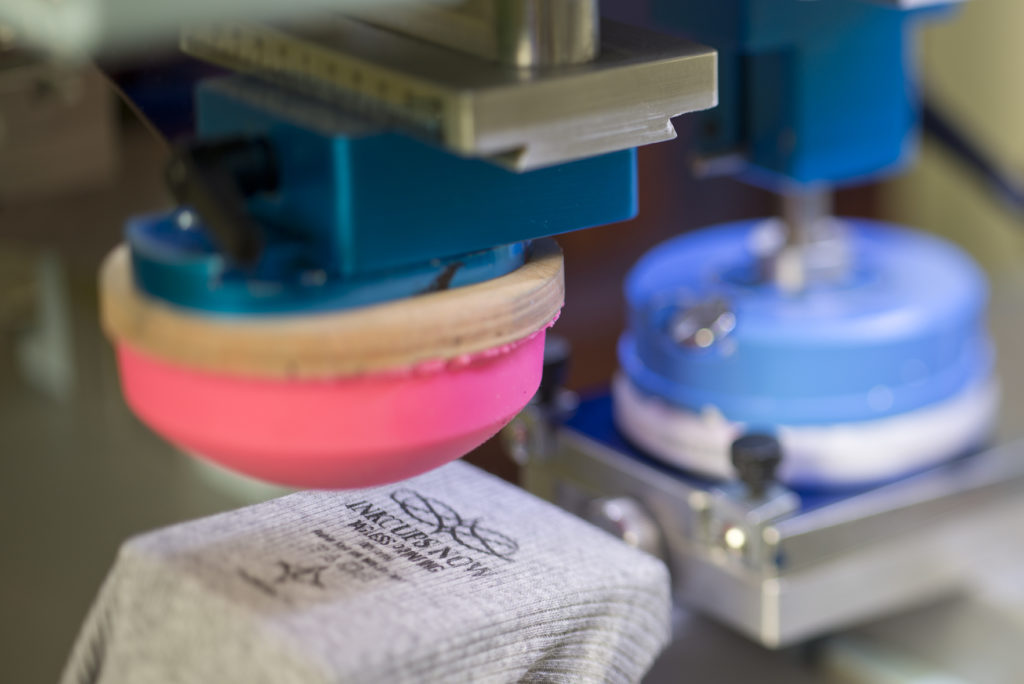 Pad printing has been around for the greater part of the last 200 years. With longevity like that it is easy to deduce that pad printing keeps up with the current times. Pad printing continues to be a great option for businesses of every size thanks to low start up costs and continuous low operating costs. But is pad printing right for your business?
Let's start at the beginning, what do you wish to print on?
Pad printing allows the freedom to print on a wide variety of products appealing to numerous industries. The toothbrush provided at the end of your cleaning, has been pad printed on! What about the plastic components of your car dash board- pad printed for sure.  Pad printing is a great option if you wish to print on surfaces that are flat, curved, or even uneven.
Getting Started:
Generally speaking, pad printers differ by:
Number of colors
Image diameter
Product height
Let's tackle bullet point one first. Here at Inkcups we offer over a dozen different pad printers to accommodate one to six color designs. Visit the full selection on our page dedicated entirely to pad printers. While you're there, play around with the left hand column to find the best fit pad printer for your business.
Second, depending on the ink cup used in the pad printer, Inkcups' pad printers offer maximum image size from 3" to 7.5".
Third, our pad printers can accommodate printing on parts up to 11.8" tall!
Take a moment to mull over these three points. Does your logo have under six colors? If it has more, consider checking out UV printers, if not… read on!
What is a Pad Printing Machine?
A pad printing machine is a piece of equipment that consists of pad printing pads, pad printing plates, and pad printing ink to complete the process of transferring a 2D image to a 3D product. Often pad printing machines are used for printing on products that are deemed difficult in a wide range of industries.
Inkcups' pad printers all host a sealed ink cup. The sealed cup system is an inverted cup filled with ink that utilizes the sharp rim of the cup to wipe the printing plate clean of excess ink. A sealed cup is often selected over other ink cup options as it serves two functions in one while dramatically limiting the exposure of air to the ink.
Advantages of Pad Printing In-House
We have lived the past couple of years in a global pandemic and found out firsthand how hard it is to control outside sources; toilet paper shortages, delayed or entirely lost packages, and large changes in most parts of everyday life. Had you pad printed in-house during this time your business would have remained largely unchanged. There are several reasons to consider pad printing in house rather than outsourcing the service. In-house printing:
Guarantees control.
Offers flexibility to alter a product quickly.
Allows higher quality control.
Offers lower overhead costs by producing within.
Popular Applications for Pad Printing
Shirt tags! Or lack thereof. Next time you dig through your t-shirt drawer appreciate just how many t-shirts are now tagless… almost all of them.
Tagless label printing can be done three ways; heat transfer, screen printing, or pad printing. However, pad printing really shines when it comes to tagless apparel labels as it has low start-up costs, low operating costs, flexibility, durability, and instantly dries.
Promotional Products
Pad printers offer an excellent solution for printing all your marketing and promotional products. Inkcups offers inks for a wide variety of materials so whether you aim to print on glass, rubber, or anything in between.
A recent study showed that the average household contains 30 promotional products and that 53% of people use a promotional product they have received at least once a week.  This is a cheap and easy way to integrate your company into the everyday lives and homes of customers.
Industrial Applications
There are unlimited options for pad printing when it comes to the industrial industry as the parts are often of unique shape and size. Pad printing shines when it comes to industrial applications as often companies only need one color logos or product information on the item. Printing on the handle of a screw driver is a perfect example of how pad printing is able to accommodate trickier surfaces.
Contact Inkcups Today if you think Pad Printing is Right for your Business
Contact a local sales representative today to get your business started with pad printing in-house to experience the freedom first hand.
Case Study: Find out how Landmark Improved Labeling with our help.
Back to Blog Home
Next Post
November 17, 2022
Applications, Pad Printers